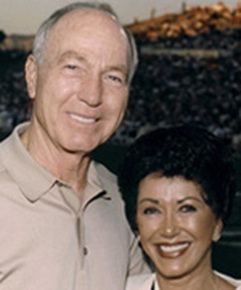 Bart and Cherry Starr: At the time the Gillespies approached Bart Starr and his wife Cherry with their vision for Rawhide, Bart was very popular and his time was in great demand. In 1965, Bart Starr, along with coach Vince Lombardi, would lead the Green Bay Packers to become World Champions and Super Bowl I champions one year later.

When the Starrs agreed to join the Gillespies, Rawhide gained instant credibility. Bart would later offer to raffle off the Corvette he received as MVP from Super Bowl II to complete the down payment on the Rawhide property.

Bart and Cherry have been wonderful role models for hundreds of boys who have gone through Rawhide's programs since 1965. They have donated countless hours sharing the Rawhide story, helping raise funds, visiting with the boys, and producing dozens of public service announcements for radio and TV.

The Starrs continue to be spokespersons for Rawhide and are in communication with Rawhide on a frequent basis. Bart is now retired from a successful career in football and business. He and his wife Cherry reside close to their family in Alabama and make numerous visits to Wisconsin each year. This is a GREAT WORK!!! If you want to support this effort, click the link below.


---