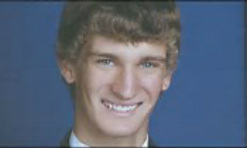 IN LOVING MEMORY OF JUSTIN INVERSSO

As a storm threatened at Adventure Island just before noon, Inversso, who works as a lifeguard supervisor at the park, was trying to get everyone on the 700-foot-tall Key West Rapids ride to safety when lightning struck the tower, At the time, Inversso, who grew up in Dade City, was standing in two or three feet of water. Park employees got him out of the water and began CPR following the 11:49 a.m. strike. Four minutes later, Tampa Fire Rescue workers arrived and continued the effort, but without success.
Justin Inversso attended Pasco County High School, where he was captain of the swim team and an honors student. He attended Pasco Hernando Community College for two years, and this year began studying engineering at the University of South Florida.The Pasco County Sheriff's Office released this statement:

"Justin showed great promise as a young man and he cared a great deal about the safety of others. His actions not only to save the lives of the people in the park but his entire life demonstrated that he is and will always be a hero."

The purpose of this charity is to provide a free venue that will link other 501 (c) (3) charities to a central hub on the internet that will be used to raise funds that will support their mission.

Our mission is to deliver 100% of donated funds to the charity of your choice. We will make every effort to find matching funds to double the donation to your charity. We operate with no payroll, no office rent, and minimal expenses.


The Angel Ad Litem Network was created to help small, local charities raise funds.
Angels will be listed on our web page, receive a certificate and Angel Ad Litem pin.
Guardian and Ark Angels will have a free link to their homepage from our website. Click the button below to register. List your charity in the description section.


A BIG "THANK YOU" TO OUR ARMY OF ANGELS!
ARCH ANGELS:
Publix Supermarkets, Dick Sporting Goods,
IERNA's Heating and Air.


GUARDIAN ANGELS AD LITEM:
Sports One, Game on 4 Kids, Computers etc. & Digital Doc.
John R. Council, Attorney of Law.



ANGELS AD LITEM:
Saltblock Catering, Florida Hospital, Pool Medic, the Dedmon Family, the Schroder Family and others.


THANK YOU!!!




---